Trochoidal Gear Pump / Internal Lobe Pump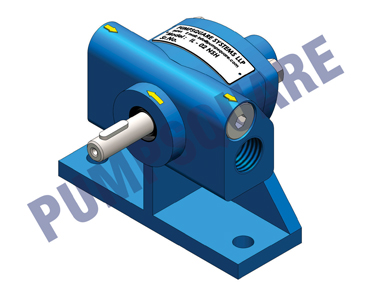 Send Enquiry
Download catalogue
General Information :
Working :
There are two Pumping Elements with Gear in Gear Principle. The Rotors are mounted on single shaft well supported on both the ends. As the Shaft Rotates, they mesh & un-mesh displacing the liquid axially through its pumping elements. Axially flow through elements ensures better suction capabilities, very low noise level and nearly pulsation free flow. These pumps have low power consumption compared to other brands due to unique mounting rotors.
Rotors are produced using sintered metal technology and the other components are produced using the advanced manufacturing techniques with all the necessary quality checks for repeated accuracies in dimensions, guaranteed interchangeability and near to perfect pumping characteristics.
This Series is highly reliable when put to work on field, has longer service life, practically needs no maintenance and has reduced cost of the end product than the conventional equivalent to the customer. A standard pump would consists of Rotors in Sintered Iron, with built – In Relief Valve, Shaft in EN-8 / SS-304, Lip Seal in Nitrile and all other parts in Cast Iron.
Application :
Unloading and Transfer of Lubricating Oil from Tanks and Barrels
Oil Circulation, Gearbox, Bearing and Pressure lubrication
Transfer of Fuel Oils from Daily Service Tanks, Pre Heaters and Filters
Transfer and Circulation of Oil in Transformer & Oil Cleaning Machines
Fuel Injection Pumps and as Booster Pumps in Oil Burner Services
Unidirectional Flow Designer and Reversing Shaft Duties as in Machine Tools, Gear Boxes and Crane Duties
In Hydraulic Power Packs
Low Pressure – Continuous and Intermittent duty application
Typical Liquid List
Lubrication Oils, Fuel Oils like HSD, LDO, Furnace Oil, Transformer Oils, Palm Oil, Hydraulic Oils, Additives, Shampoos, Coconut Oil and media having good lubricating properties
Optional MOC
Under Special Execution we can offer pump in Stainless Steel, Ball Bearing Construction and Seals in Viton or EPDM.
Mounting
Monoblock type Pump and Motor eliminating need of Coupling and Frame.
Foot Mounted Pump Coupled with Motor on a Base Plate with Coupling Guard
Flange Mounted Pump Coupled with Motor using a Bell Housing Bracket
Features
Compact, Light Weight, Easy to Mountain and Neat Design
Can be Serviced in place without disconnecting the pipelines & Motors (Applicable even for Mono Block Construction) Bi-Directional
Integrated Shaft in Mono Block construction eliminating the shaft runs out for the improved life of the lip seal. Also, Shaft is supported on 2X Bush Bearing as well as 2X Ball bearing reducing the load on shaft as well as the pumps
Pump Shaft Dynamically balanced and Heat Dissipation is improved in Mono Block Design
Engineered to run at high Speeds and adaptability of Mechanical Seals for Critical Applications even for lower flow rates
Advanced Metallurgical Composition for Better and Longer Rotor Life
Lower Power Consumption & High Volumetric Efficiency
Pump with steam Jacketing on Request
With Built-In relief Valve
Improved Rotor Profiles for Smooth Meshing minimizing the Internal Losses and for excellent Suction Capabilities
Prime Mover
Three Phase AC Motor
Single Phase AC Motor
DC Motor
Directly Couple to PTO Shaft
Pump Data with 40 cSt Lube Oil at 40 °C (VDMA 24284 Test Standard as per GR. II CL. II)
Pump Model
Port Size
Max Flow
Max Pressure
Speed
Power
Sealing Option
New
Inlet X Outlet (BSP)
LPM
kg/cm²
RPM
BkW
IL01
1/4" x 1/4"
4.5
3
1450
0.25
Lip Seal
IL11
1/4" x 1/4"
4.5
3
1450
0.25
Lip Seal/Mechanical Seal/Gland Packing
IL02
1/2" x 1/2"
10
6
1450
0.37
Lip Seal
IL12
1/2" x 1/2"
10
6
1450
0.37
Lip Seal/Mechanical Seal/Gland Packing
IL03
1/2" x 1/2"
15
6
1450
0.5
Lip Seal
IL13
1/2" x 1/2"
15
6
1450
0.5
Lip Seal/Mechanical Seal/Gland Packing
IL04
1/2" x 1/2"
20
6
1450
0.65
Lip Seal
IL14
1" x 1"
20
6
1450
0.65
Lip Seal/Mechanical Seal/Gland Packing
IL05
1" x 1"
40
6
1450
0.75
Lip Seal/Mechanical Seal/Gland Packing
IL15
1" x 1"
40
6
1450
0.75
Lip Seal/Mechanical Seal/Gland Packing
IL06
1 1/2" x 1 1/2"
77
6
1450
1.2
Lip Seal/Mechanical Seal/Gland Packing
IL16
1 1/2" x 1 1/2"
77
6
1450
1.2
Lip Seal/Mechanical Seal/Gland Packing
Pump can be offer for pressure upto 12 kg/cm² in IL 1X Series
For Flow Greater than 80 LPM, Please refer to our Internal Lobe Pumps without Crescent Catalog
Grafoil Packing Rings in lIeu of Gland Packing can be provided for High Temperature Application