Triple Screw Pumps / Three Screw Pumps (Th 2X)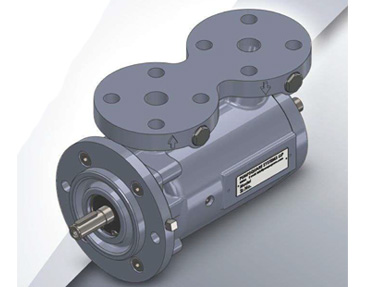 Send Enquiry
Download catalogue
General Information (TH 2X Pumps)
Working Principle
Triple Screw Pumps are positive displacement pumps of very simple design. They consist of three rotating parts only "the rotors" which turn in their precisely machined housing bores. The rotors are of double start screws, continuously meshing to form delivery Chambers, which move constantly from the suction to the pressure / discharge side. Constant volume of the chambers and the uniformity of the movement allow an even flow. The pumps remain therefore near silent in operation and almost free of pulsation, even at high speed. The Principle of screw pump and its accurate profiles warrant high suction power. Axial loads on the rotor are compensates by adequate design of the bearing part. All the radial loads are self-compensated.
Application
TH 2X Pumps are specialized for the use with fuel oils, lube oils, Hydraulic oils and other Lubricating liquids which doesn't contain any solid particles. As a result they find their application in wide variety of fields like :
Furnace oil filling
Filling Pumps
Transfer Pumps
Hydraulic Pumps
Booster Pumps/Burner Pumps
Typical Liquids :
Bunker Oil, Fuel Oil, Engine Oil, Furnace Oil, Heating Oil, Hydraulic Oils, Mineral Oil, Synthetic Oil and Other Oils having lubricating properties.
Mounting & Execution :
Suction Flanges : As per PN 16 DIN 2533
Discharge Flanges : As per PN 40 DIN 2535
Horizontal Flange Mounted pump coupled with Motor using a Bell Housing Bracket (B35 / B34)
Vertical Flange Mounted pump coupled with Motor using a Bell Housing and a pedestal (V5)
Material Of Construction :
Pump Housing : Cast iron
Rotors

Main Screw : Nitirded Alloy Steel
Idler Screw : Nitrided Alloy Steel

Liner : Alluminium / Cast Iron
Mechanical Seal : TC/TC
Shaft Sealing : Single Unbalance mechanical Seal
Casing Covers : Cast iron
Bearing Bush : Alluminium
Elastomers : Viton
Gasket : Non Asbestos
Temperature range
Max Temperature upto 150 deg C is permissible.
Jacketing
Optional Jacketing Front Cover can be provided on request
Speed of Rotation
Shaft Speed ranging from 500 – 3600 RPM.
Do not exceed 1500 RPM when pumping residual fuels, crude oil, furnace oil due to the presence of abrasives and contaminants.
Direction of rotation
Clockwise from the Shaft End of the Pump (Standard)
Anticlockwise from the Shaft End of the Pump (On Request / Non Standard)
Filtration
The Pump must be protected against solid particles in the fluid by suitable suction filters.
The mesh width should be 0.1 mm and care has to be taken that even with a contaminated
Filter the admissible suction lift capabilities is not exceeded.
Installation
All pumps are by default to be bracket mounted with the motor. They work perfectly in any position (horizontal & vertical), provided suction and discharge lines are arranged in a way that prevents emptying of pump when at stand still
Running Dry or with Non Lubricating Liquid, will damage the pumps.