Trochoidal Gear Pumps / Internal Lobe Pumps / Monoblock Gear Pumps (IL-2X)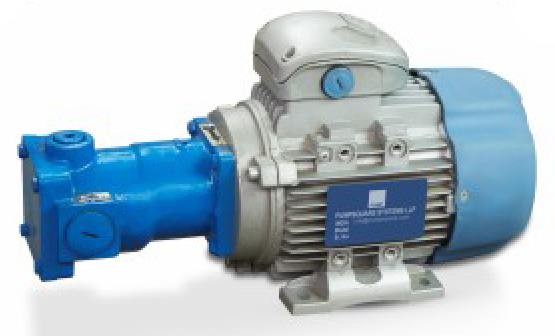 Send Enquiry
Download catalogue
Max Capacity: Up to 80 LPM
Max Pressure: Up to 6 Bar
Temperature: Up to 120 Degree C.
Viscosity: 20 - 320 Cst.
CONSTRUCTION & WORKING
IL 2X series has been developed as a successor to the IL1X Series Generation, but with a modular design for the most rugged application. The users have peace of mind to an extent that all the pain points like coupling, coupling guards, alignment and shaft runout is eliminated. Furthur, the evolution of design is such that the bearings don't come in contact with the liquid and if need arises for maintenance, the pumps need not be disturbed from the pipe lines.The working principle is simple. There are two pumping elements with gear in gear principle. As the shaft rotates, they mesh & un-mesh displacing the liquid axially through its pumping elements. Axial flowthrough elements ensures better suction, very low noise level and nearly pulsation free flow.
ADVANTAGE
Just buy the pump head and easily fit it on your motor at your works.
Monoblock Pump Head can be used across any type of motor & any brand motor as far as the Frame Size of the Motor remains same.
With Built-In Relief Valve
Improved Rotor Profiles for Smooth Meshing, minimizing internal losses and excellent suction capabilities.
External bearing Design, Liquid doesn't come in contact with bearings.
Low Power Consumption, Higher efficiency than traditional pumps.
Eliminates the need of Mounting Frames & Coupling.
Pump shaft is well supported on ball bearings to reduce the loads on the rotor as well as motor shaft.
Hardened Shaft, Low Noise, no shaft run out, compact and light weight.
Fit & Forget Design
Reduced cost of your end product and monetary savings for you
Value addition on your delivery of product as monoblock gear pumps with special motor ratings can be easily delivered
MOUNTING & EXECUTION
Horizontal Face Mounted Pumps for Close Couple Design with the Prime Mover.
Pump mounting flanges to Suit B14 Face of standard Frame IEC Motor
Electrical Motor to be of Foot + Face (B3 + B14 = B34)Type.
Horizontal & Vertical Mounting as per your selection
PRIME MOVER
Three Phase AC Motor
Single Phase AC Motor
APPLICATION
Unloading, Loading & Transfer of all types of Oils
Circulation & Forced Lubrication in your Machines & Equipments
As Filtration Pumps and Fuel Injection Pumps
In Hydraulic Power Packs
For all Low Pressure - Continuous & Intermediate Duty Applications.
TYPICAL LIQUID LIST
All types of Lubricating, Gear Oil, Water Emulsions & Transformer Oils
Hydraulic Oil, Coolant Oil, Neat Cutting Oil, Mineral Oil,
Furnace Oil & Fuel Oils like HSD & LDO
Any media having good lubricating properties
MATERIAL OF CONSTRUCTIONS (MOC)
Pump Housing & Covers: Cast Iron
Rotor Set: Sintered Iron
Shaft: Hardened Alloy Steel
Relief Valve Parts: In Spring Steel & Cast Iron
Shaft Sealing Type: Lip Seal (Mechanical Seal Optional)
Sealing Kit Elastomers: Nitrile (Viton Optional)
Pump must be protected against solid particles in the fluid by suitable suction filters. Also, Running Dry or with Non-Lubricating Liquid will damage the pump.